The Moody Blues' John Lodge - Performs Days of Future Passed & more! (3/6/24)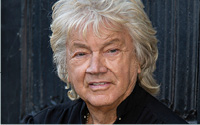 Ticket prices: $54-174
Fees Included

Tickets go on sale for
Premium Members: Monday 10/9 at 12pm
Members: Tuesday 10/10 at 12pm
Public: Friday 10/13 at 12pm
Presented by The Music Hall, supported by WFUV
Rock & Roll Hall of Famer John Lodge is the legendary bass player, songwriter, and vocalist of The Moody Blues. Following the critically acclaimed and sold out shows this year, John is continuing in his celebration of The Moody Blues' music, and their iconic album Days of Future Passed.
Days of Future Passed
encompasses a first set of electric Moodies classics featuring all the fan favourites such as 'Isn't Life Strange,' 'Legend of a Mind,' 'I'm Just a Singer (in a Rock and Roll Band),' 'Ride my See-Saw,' and so much more. The second set will see John and his band perform the iconic album Days of Future Passed in its entirety, and in full symphonic sound. There are exciting changes from the original show, with new classic songs and deep cuts, enhanced video, and dazzling lighting. It all comes together to make for a very special evening of great music and Moodies memories… Come take a journey back in time with John and his 10,000 Light Years Band as they create audio alchemy for your listening and visual pleasure!
John Lodge Merch and Video Message Package
Premium Concert Ticket

Personal Video Message from John Lodge to YOU

Poster Autographed by John Lodge

Exclusive Tote

Exclusive VIP Merch Item

Commemorative Laminate
Merchandise items will be collected at the venue on the night of the show. Merchandise items are subject to change without notice. For questions related to your VIP Package, please email: VIP@onelive.com