Westchester Symphonic Winds - Legends (11/5/23)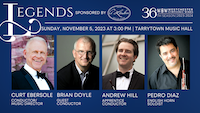 General Admission - $20
Seniors/Students - $15
Under 10 years old - Admitted free
Westchester Symphonic Winds (WSW) presents "Legends," the opening performance of their 36th season on Sunday, November 5, 2023 at 3:00 pm at the Tarrytown Music Hall. The WSW Invitational Double Reed Ensemble and guest artists from legendary corners of the musical community join Maestro Curt Ebersole and the ensemble for this first concert of the new season.
Now in his eighteenth season as English horn soloist with the Metropolitan Opera, Pedro Diaz takes the stage as the featured guest artist for the afternoon, performing Gaetano Donizetti's Concertino for English Horn. In addition to his solo performance, Mr. Diaz joins the WSW Invitational Double Reed Ensemble for three works specifically arranged for the group by WSW clarinetist and board member Barton Green.
Leading the ensemble as the first guests on the podium for the 36th season are Brian K. Doyle and Andrew Hill. Making his debut with WSW, guest conductor Dr. Brian Doyle is serving in his seventeenth year as Director of Bands at the Crane School of Music at SUNY Potsdam. Apprentice conductor Andrew Hill, a member of the WSW trombone section, is currently the Band Director at Byram Hills High School and a freelance musician and conductor based in the Metro New York area.
Curt Ebersole, conductor/music director
Pedro R. Díaz, guest English horn soloist
Dr. Brian K. Doyle, guest conductor
Andrew A. Hill, apprentice conductor
Program includes:
GREEN - Pre-Americana
SMITH/arr. Sousa & Damrosch - The Star-Spangled Banner
BERNSTEIN - Overture to Candide,
Andrew A. Hill, Apprentice Conductor
BIEDENBENDER - dream of ember, dream of star,
Dr. Brian K. Doyle, Guest Conductor
DONIZETTI - Concertino for English Horn,
Pedro R. Diaz, English horn soloist
DAY - Shimmering Sunshine

Double Reed Ensemble:
HANDEL/arr. Green - Entry of the Queen of Sheba
MANCINI/arr. Watson - Baby Elephant Walk
MERCURY/arr. Green - Bohemian Rhapsody
KOZHEVNIKOV - Symphony No. 3 "Slavyanskaya"
This concert is made possible through the generous support of
A.Laubin, Inc.
, American maker of handcrafted oboes and English horns.