Stella Blue's Band & SoulShine - Celebrating the Grateful Dead & Allman Brothers (11/22/23)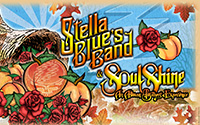 Ticket prices: $36-$51
Fees Included

Tickets go on sale for
Premium Members: Monday 9/11 at 12pm
Members: Tuesday 9/12 at 12pm
Public: Friday 9/15 at 12pm
Presented by The Music Hall
A Thanksgiving eve tradition continues!….A jam-filled evening celebrating two of the most iconic rock acts in music history. Stella Blue's Band, founded in 2009, recreates the experience of being at a Grateful Dead show. The band has been lighting up the tri-state area with its high-energy performances. With dynamic jams and artful improvisation, Stella has developed a loyal following with shows that thrill the GD faithful and newcomers alike.
Soulshine is a group of seasoned New York musicians who, through their mutual love of the Allman Brothers Band, have united for the sole purpose of bringing you the ultimate Allman Brothers experience. The seminal catalogue of the Allman Brothers singalongs and jams are carefully replicated with all of the important attention to detail: spot on guitar and vocal harmonies, two drummers, a real Hammond B-3 organ with Leslie speaker, mind-bending improvisation and amazing slide guitar playing, all in front of a dazzling video backdrop display. Come out and enjoy an experience you will not soon forget!