SPOOKY (but not too) SCARY STORIES (10/14/23)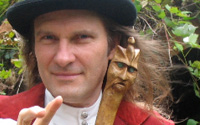 Tickets: $22
Fees included
Presented by The Music Hall
Join "Legend of Sleepy Hollow Storyteller," Jonathan Kruk for a witch's brew of ghosts, hobgoblins, and jumpstarts! Meet the witch who tricks and treats kids on Halloween. Walk through Sleepy Hollow with the Little Old Lady who is not afraid of anything. Take home the tale of the Haunted Hand!. Find out why to watch out for Rolly-Head!
Halloween stories to happily haunt school-aged children.
Live eerie music by Steve Caffeine Kelman.

Jonathan Kruk is the Hudson Valley's master storyteller, renowned for dramatic solo shows of "The Legend of Sleepy Hollow" and "A Christmas Carol," He is an artist /educator performing at area schools, libraries, and festivals. Jonathan's been featured on The Travel Channel, CBS Sunday Moning, and The TODAY Show. He has eight award-winning recordings.