Ghost Tours of The Music Hall (October 2023)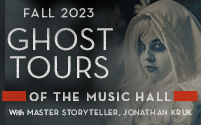 Tickets: $25
Presented by The Music Hall
Please join us for a guided tour created by Master Storyteller Jonathan Kruk, and discover the historic lore and spirits that linger here at The Tarrytown Music Hall.
The Music Hall was built in 1885 during the Millionaire's Colony Era when mansions dotted the Hudson Valley landscape and families such as the Rockefellers, Goulds and Vanderbilts gathered at the Music Hall to participate in its lavish balls, flower shows and concerts. Since then, the Music Hall has been a reflection of the human spirit, mirroring the current events of the town and the rest of the world. In addition to Presidents' speeches, it has hosted women's suffrage rallies and endured several wars, depressions and pandemics including those of 1918 and 2019. It is a vessel through which many people pass. And some don't leave …
The building is an official site of the Haunted History Trail of New York.
Gotham Paranormal Research Society
has investigated the Music Hall several times and has consistently detected paranormal activity including intriguing EVP (electronic voice phenomena) audio files and EMF (electromagnetic field) readings.
We have great respect and reverence for our spirits and invite you to join us as we learn and discover more about them.
Online sales only or during box office hours - the box office will not be open during/prior to the tours.
Tickets: $25 - Please arrive 15 minutes before scheduled tour time - No late entry will be permitted
--
The 45-minute tour kicks off in the theater lobby and does include climbing stairs and extended periods of standing.
Maximum 24 patrons per tour, Minimum 10 patrons per tour.
If a show must be cancelled, all patrons will be contacted the night before.