The Mavericks (10/27 & 10/28)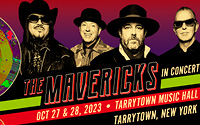 Ticket prices: $55-95
Fees included

Tickets go on sale for

Members: Tuesday 8/8 at 12pm
Public: Friday 8/11 at 12pm
Presented by The Music Hall, supported by WFUV
DANCE WARNING! The band WILL encourage audience members to get up and move, which may mean patrons who prefer to stay seated will suffer restricted views, including in the front row.
PLEASE NOTE: The Saturday show begins at 9pm, due to the
Tarrytown Halloween Parade
. Come early to experience Westchester's best Halloween event!
A Halloween weekend tradition continues! The Mavericks return to rock the Music Hall once again….One of our favorite weekends of the year!
The eclectic rock and country group known for crisscrossing musical boundaries with abandon, has gone through three distinct phases since it was founded in Miami in 1989. An initial period of heady success marked by big hits and critical acclaim in the '90s. A long hiatus starting 2003 when the musicians each went their own way. And finally, a triumphant reunion in 2012 which held long enough for them to recently celebrate the band's 30th anniversary.
Now, The Mavericks are releasing a new album that ushers in the fourth phase of their evolution. "It's like we've had three different lives," says Raul Malo, the band's lead singer and songwriter, "and now this is a whole new beginning. We're sort of going into uncharted territory. I'm looking forward to it and I'm kind of nervous about it too. It's certainly a new adventure."
The band recently debuted their first-ever, all-Spanish album, released on the band's own Mono Mundo label. Entitled simply En Español, it is produced by Malo and the band's long-time collaborator Niko Bolas (Neil Young, Prince, Sheryl Crow). The line-up includes Malo's fellow Miamian and charter bandmember, Paul Deakin on drums and vibraphone, as well as veteran Jerry Dale McFadden, who joined in 1993. Eddie Perez, a Mexican American guitarist from Los Angeles, is the band's youngest and newest member, becoming a Maverick in 2003.