RiverArts and The Music Hall Co-Present Ronald K. Brown/EVIDENCE (10/21/23)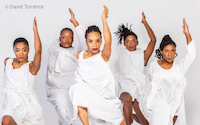 Ticket prices: $41 - $71

Fees included
Presented by RiverArts and The Music Hall
RiverArts celebrates its 60th year this fall, with its co-presentation with Tarrytown Music Hall of Ronald K. Brown/EVIDENCE, A Dance Company. Established in 1985 by Ronald K. Brown/EVIDENCE, A Dance Company, seamlessly integrates traditional African dance with spoken word and contemporary choreography. The Brooklyn based group aims to promote understanding of the human experience into the African Diaspora through dance and storytelling and to provide sensory connections to history and tradition through music, movement, and spoken word—leading deeper into issues of spirituality, community responsibility and liberation.
Through his work, Ronald K. Brown/EVIDENCE provides a unique perspective of human struggles, tragedies, and triumphs. Using the power of movement, Brown emphasizes the significance of community within African American culture and introduces audiences to the captivating splendor of traditional African forms and rhythms. Additionally, he is an advocate for fostering growth of the African American dance community and has been a vital force in encouraging young dancers to explore choreography and developing careers in dance.
For 60 years, RiverArts has been the catalyst that connects performers, musicians, and art-makers with Rivertowns audiences. We believe in the power of art to express, transform, and bring joy to our lives and our community.    
Please visit RiverArts on-line to read more about its mission, core values and programming calendar.    
https://www.riverarts.org