5th Annual Rock The Hall (9/8/23)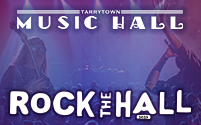 Ticket Prices: Free!
Co-Presented by The Music Hall and The River Journal
Community Showcase


Rock The Hall is designed to celebrate and elevate emerging musicians. Our judges, and prizes offer artists the opportunity to perform in front of a live audience and a first-rate panel of industry professionals. The premise is a good-natured, fun-filled evening of fantastic music, camaraderie, and community-building. Rock The Hall is also a fundraiser to support our local historic landmark theater.

The historic, Tarrytown Music Hall is one of the busiest theaters in the New York Metro region, offering the best in music, theater, dance, conversation, and film, and is a cultural destination, attracting over 100,000 people on an annual basis from all over the tri-state area. We feature world-class performers and musicians who appreciate The Music Hall for its intimate setting (843 seats), acoustics, and community enthusiasm. We are excited to bring new talent to The Music Hall Stage, through Rock The Hall, and look forward to hearing your music.