Stand Up Legend Bobby Collins (6/3/23)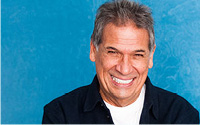 Ticket prices: $44-54
Fees included

Tickets go on sale for
Premium Members: Monday 4/10 at 12pm
Members: Tuesday 4/11 at 12pm
Public: Friday 4/14 at 12pm
Presented by The Music Hall
Comedian Bobby Collins has an ability to truthfully translate the human condition. Audiences across the country relate to his comedic characterizations as he exposes the humor of day-to-day situations as well as serving up resplendent rants on world events. A native New Yorker, Collins possesses a confidence and genuine everyman likability that can only be earned.
A "comedian's comedian", Bobby has been playing all over the nation to sold out houses for decades now, but he knows what it's like to work a day job in order to pursue a dream. He's flipped his share of burgers, as well as signing on as a substitute high school history teacher to pay the bills – all the while performing in comedy clubs at night. After heeding a conversation with his father, with some trepidation, he ventured into sales. Settling into the high fashion industry. A detour that proved so successful, that in the 1980's he had risen to Vice President at Calvin Klein. It was there that he found himself faced with a life changing decision; remain or chuck the security (and more than substantial steady income) for the uncertain challenge of heading out on the road – to pursue his dream of becoming a professional, full time stand-up comedian. Dreams come true!