An Evening with Peter Yarrow & Noel Paul Stookey | NEW DATE 6/29/24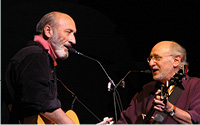 Ticket prices: $54-91

Tickets go on sale for
Premium Members: Monday 4/10 at 12pm
Members: Tuesday 4/11 at 12pm
Public: Friday 4/14 at 12pm
Presented by The Music Hall
Please note the new performance date will of 6/29/24.
Peter Yarrow and Noel Paul Stookey carry on the tradition of the renowned folk music group Peter, Paul and Mary--a union that lasted 50 years. Peter, Paul and Mary arrived on the scene in Greenwich Village in the early 1960's and at the time, for the majority of America, folk was viewed merely as a sidebar to pop music.

The nation was still recovering from the McCarthy era and the Cold War was heating up. Peter Yarrow, Noel (Paul) Stookey and Mary Travers came together to reclaim folk's potency as a social, cultural and political force. The Trio lived their songs. They sang at the 1963 March on Washington where Dr. Martin Luther King gave his "I Have a Dream" speech, they participated in the Selma to Montgomery March, they sang at countless anti-Vietnam War rallies and they launched decades of musical activism. These individual and collective efforts addressed a wide range of issues from women's rights, to farm-worker rights to the environment, education and issues of gun violence. No American folk group lasted longer or amassed a more loyal following than Peter, Paul and Mary. During their legendary career, the trio won five Grammy's, produced 13 top 40 hits of which six ascended into the top 10, and earned eight gold and five platinum albums.