Martin Sexton & KT Tunstall (4/30/23)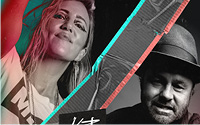 Ticket prices: $38-65

Tickets go on sale for
Premium Members: Monday 1/16 at 10am
Members: Tuesday 1/17 at 10am
Public: Friday 1/20 at 10am
Presented by The Music Hall, WFUV Media Sponsor
Acclaimed singers and songwriters Martin Sexton & KT Tunstall are back for an incredible evening at the Music Hall. Each will perform their own sets. (And hopefully a few songs together!) Martin Sexton extends touring in support of his ninth studio release Mixtape of the Open Road. The Wall Street Journal and CMT premiered tracks from the album that since garnered much critical acclaim. "Outstanding taste in songwriting as well as a soul-marinated voice." - Rollingstone.
Sexton got his start singing in the streets and subways of Boston in the early 90's. Still fiercely independent and headlining venues from The Fillmore to Carnegie Hall, he has influenced a generation of contemporary artists. His songs have appeared in television series such as Scrubs, Parenthood, Masters of Sex and in numerous films, though it's his incendiary live show, honest lyrics, and vocal prowess that keep fans coming back for more. Since scoring a worldwide smash with her debut album 'Eye To The Telescope' in 2004, which went on to sell over 5 million copies, KT Tunstall has remained at the forefront of UK singer- songwriter talent. Over the next decade, three further critically acclaimed albums followed; 'Drastic Fantastic', 'Tiger Suit' and 'Invisible Empire//Crescent Moon' in 2007, 2010 and 2013 respectively, keeping the platinum sales rolling and cementing the Scottish singer-songwriter's reputation as a major recording talent, as well as a mesmerising live artist.