LED ZEPPELIN Tribute Lez Zeppelin perform PHYSICAL GRAFFITI + More (4/22/23)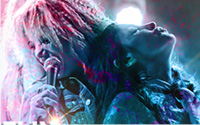 Ticket prices: $29-49

Tickets go on sale for
Premium Members: Tuesday 1/10 at 12pm
Members: Wednesday 1/11 at 12pm
Public: Friday 1/13 at 12pm
Presented by The Music Hall
Lez Zeppelin
All Girls. All Zeppelin.
Lez Zeppelin is a phenomenon. Since their formation in 2004, the group has stunned audiences all over the world with the musicianship, passion and gender-bending audacity they bring to the music of Led Zeppelin. Unlike the typical "tribute band" Lez Zeppelin does not seek to imitate. Rather, they are a she-incarnation of the original. With swagger, intensity and virtuosity, these four women cover the entire canon, performing hits, deep tracks, epic compositions and acoustic numbers with utmost authenticity, as if they'd written the music themselves. Jimmy Page described it best after attending a Lez Zeppelin show in London: "They played the Led Zeppelin music with an extraordinary sensuality and an energy and passion that highlighted their superb musicianship."


Physical Graffiti: In It's Entirety


Physical Graffiti, the epic double-album released by Led Zeppelin in February 1975, is perhaps the most beloved and magical of all of their recordings. Simply put, it is the album EVERYONE wants to hear. For the very first time, Lez Zeppelin presents Physical Graffiti from start to finish in all of its majesty and diversity. From the mysticism of Kashmir to the rockin' funk of Trampled Underfoot to the progressive elegance of Ten Years Gone, Lez Zeppelin delivers passionate, note-for-note renditions of all 15-songs. Accompanied by a provocative and uniquely curated multimedia presentation, this full-length, immersive experience digs deep into the heart and soul of one of rock's greatest albums.