Holiday Market at Tarrytown Music Hall (12/4/22)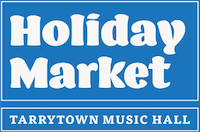 Ticket prices:
Public - $5
Members - Free Admission
A curated shopping event that highlights the best products from local & regional artists and makers. This holiday season, support small businesses and find the perfect gifts for everyone on your list. The vendors range from designer to delectable with everything from luxury knitwear, unique jewelry, natural skin care, hand painted leather goods, sweet treats like gourmet chocolate and caramel, and so much more.
Join us on Sunday, December 4th from 10 am - 4pm
At Tarrytown Music Hall , 13 Main Street

Meet The Makers:
Aware Boutique, Body at Rest (Farmbody Skin Care), Bohemian Farmgirl, Blooms Bling, Bold Version Design Co., Caramella Moo, Cooper's Daughter Spirits, Cornwall Yarn Shop, Eltee's Goods, Farm2Fashion, JUNAI Knitted Goods, LabelMaker Drinks, Line Study Textiles, Liquid Fables, Lisa Medoff, Lu Mabey Jewelry, Luxx Chocolat, MakeRuckus Press, M Starr Studio, Off the Wheat, Postage Stamp Jewelry, RH Soapery, RoseAnna's Glass Art, Sixteen Sisters, Soy Bello Candles, Wood Fire Food, Wyffels Rd.