Gaelic Storm & The High Kings - The Mighty Tour 2023 (3/17/23)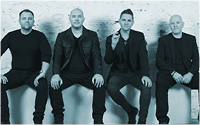 Ticket prices: $48-68

Tickets go on sale for
Premium Members: Monday 10/17 at 12pm
Members: Tuesday 10/18 at 12pm
Public: Friday 10/21 at 12pm
Presented by The Music Hall, WFUV Media Sponsor
A St. Patricks Day Celebration! The High Kings continue to set the bar extremely high for Irish folk bands across the world. In their time together, 'The High Kings' have charted across the world and performed for hundreds of thousands of fans, as well as in many prestigious situations including for the Prime Minister of England ( 2011), Barak Obama( 2012) & George W Bush ( 2009 at the White house and at The Pentagon ( 2015). Notable performances include Glastonbury, the Isle of Wight ( 3 times – headlining in 2015), They appeared in Time Square & also headlined the St Patrick's Day concert in Trafalgar Square London (2015).
Gaelic Storm are a chart topping Celtic band: 7 times billboard #1 world music, on tour 200+ days a year for 20+ years! More fun than a barrel of drunken monkeys. It's hard to imagine a band just coming into their own after 20 years of success, but that's exactly what makes a true anomaly. This multi-national, Celtic juggernaut grows stronger with each live performance, and as you can imagine, after two decades and over 2000 shows, it is a true force to be reckoned with. With their latest release, Go Climb a Tree, their music has never sounded more representative of themselves as musicians and as live performers.