Dracula and the Theater of Doom (October & November 2022)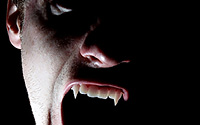 Tickets: $25 - Please arrive 15 minutes before scheduled tour time - No late entry will be permitted

The 45-minute tour kicks off in the theater lobby and does include climbing stairs and extended periods of standing.

Maximum 24 patrons per tour.

Tour schedule will roll out weekly, come back for updates.
Presented by The Music Hall
An interactive thrill ride play that uses the entire Music Hall as its backdrop!
Dracula, the King of the Vampires, is loose in the Tarrytown Music Hall this Halloween! This new breathtaking thrill ride, written and directed by Sleepy Hollow's own Peter Royston, keeps the audience on its feet as they move with the characters from eerie space to space through the historic Tarrytown Music Hall! Join the audience as it follows Dracula, Van Helsing and the rest of the characters throughout the theatre, from its grand stage to the deepest murky catacombs below the theatre to the dizzying heights of its balcony for a soul-shattering conclusion!