Clocktower Players Presents: A Star-Studded Autumn Gala BROADWAY-ON-HUDSON (10/14/22)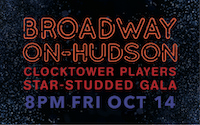 $150 PREMIUM TICKET
Experience the best seats in the house and access to a fun After-Party at a Rivertowns hot-spot. Enjoy hors d'oeuvres, an open bar for wine & beer till midnight and a cash bar for spirits. Directions will be sent to premium ticket supporters

$75 PATRON TICKET (performance only)
Enjoy preferred seating in the theater

Tickets go on sale on Wednesday, 9/7 at 12PM
Presented by Clocktower Players
You're cordially invited to Clocktower Players star-studded Autumn Gala!
BROADWAY-ON-HUDSON brings together Broadway and regional talent in a sensational kick-off to Clocktower Players 45th Season and to honor choreographers, teachers and performers - Sandy Evangelista and Josue Jasmin. They have brilliantly danced, choreographed and positively impacted thousands in our community with their remarkable talent. Wear your party clothes and celebrate these two extraordinary people in an evening benefiting the little theater company they love, Clocktower Players.
BROADWAY-ON-HUDSON Stars DARLESIA CEARCY Once on this Island, The Color Purple CRIS GROENENDAAL Sweeney Todd, Phantom of the Opera CAITLIN HOULAHAN Girl from the North Country, Waitress TERRI KLAUSNER Evita, A Chorus Line CHRIS MCCARRELL Les Miz The Lightning Thief T. OLIVER REID Hadeston, Mary Poppins TY STEPHENS Sophisticated Ladies
RYAN VONA Once, Beautiful SAM WOLF Jersey Boys
Featuring CLOCKTOWER TALENT Miguel Acevedo, Robin Aleman, George H. Croom, Laura Donaldson, Cindy Finegan, Larry E. Johnson, Bryce Kylie, Katie Luekens Chan Chee, Tony Melson, Rene O'Neal, Christopher Oldi, Jesse Pellegrino, Louis Quintero Jr., Larry Reina, Jocelyn Rosenthal, Mark Rosenthal, Charlie Scatamacchia, Lisa Spielman, Davyd H. Suber Jr., Ashley Wool
Master of Ceremonies BRIAN MOROBITO and Mayor BRIAN C. SMITH
Musical Accompaniment SUE ANDERSON
Lighting Design DAVID LOVETT Sound Design EMMA ARMUS
Talent Coordinator CHARLIE SCATAMACCHIA Production Manager JOHN McDONALD
Co-Producer SAM WOLF Executive Manager RENE O'NEAL Artistic & Executive Director, Producer CAGLE MCDONALD
all artists subject to change
Selected as one of New York state's "5 Best Community Theater Companies" and a "Westchester's Best" Local Theater Group, Clocktower enriches the community and empowers youth brings dynamic and diverse theater to the tri-state area.
Join us for fantastic entertainment, a fund-a-need live auction and access to an exciting after-party at a
Rivertowns hot-spot for premier ticket holders. All funds raised will support Clocktower Players' artistic and educational programs as well as its unparalleled productions on the Tarrytown Music Hall stage.
We rely on and greatly value your generous support.
Clocktower Players Inc. is a charitable, not-for-profit 501(c)(3) organization.
Donations are tax-deductible to the full extent of the law.
Donations can be made at
http://clocktowerplayers.com/donor-form