MK Dance On Hudson 2022 Showcase (5/22/22)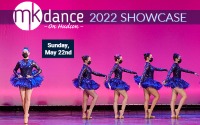 Tickets: General Seating

$20
$15 student rate
Presented by MK Dance on Hudson
MK Dance On Hudson is thrilled to present our 2022 Showcase on May 22nd. Join us in supporting and celebrating all of our students who have worked so hard this year. They are beyond excited to dance for you! Sit back, relax and enjoy as our students, ages 3-18 yrs old, perform dances in Ballet, Modern, Contemporary, Jazz, Hip Hop, Musical Theatre, Tap and Creative Movement.
The Showcase will be split into 2 Sessions.

Session 1: Morning Showcase at 10:30
Session 2: Afternoon Showcase at 12:30 & 3:30

Important Note:
The Session 2: Afternoon Showcase ticket allows you access to the 12:30 and/or 3:30 shows.
If you plan on leaving between the 12:30 and 3:30 shows, please be sure to get a bracelet from a staff member in order to be let back in.