An Evening with Graham Nash (7/16/22)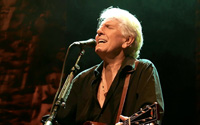 Tickets go on sale for:

Premium Members: Monday, April 4 at 12pm
Members: Tuesday, April 5 at 12pm
Public: Friday, April 8 at 12pm
Presented by The Music Hall
Legendary artist Graham Nash, as a founding member of both the Hollies and Crosby, Stills and Nash, is a two-time Rock and Roll Hall of Fame inductee who has seen rock history unfold at some of its seminal moments – from the launch of the British Invasion (that's him on-screen in 1967, eyewitness to the Beatles global broadcast performance of "All You Need Is Love" from Abbey Road studios) to the birth of the Laurel Canyon movement a year later. An extraordinary Grammy Award® winning renaissance artist – and self-described "simple man" – Nash was inducted twice into the Songwriters Hall of Fame, for his work with CSN and his work as a solo artist, beginning with two landmark albums, Songs For Beginners
and Wild Tales. $1 per ticket will be donated to a charity of Graham Nash's Choice.
Graham Nash's passionate voice has often been heard in support of social and environmental justice. During this tour, Graham is partnering with the Guacamole Fund and 100% of lift on Guacamole Fund tickets is paid to organizations that work in the areas of the environment and wildlife, social change, peace with justice, energy and a non nuclear future. Graham has supported the Guacamole fund for decades.

TICKET PRICES $49-$95

GRAHAM NASH FRONT ROW VIP PACKAGE (VIP1) : $325

Package inclusions:
• One reserved ticket in Front Row
• Visit to preshow Sound Check with Graham Nash • One autographed tour poster
• One commemorative Graham Nash laminate
• One commemorative Graham Nash ticket
• Crowd free merchandise shopping
• On site VIP staff

GRAHAM NASH SOUNDCHECK PACKAGE (VIP2) : $295

Package inclusions:
• One reserved floor ticket within first 5 rows
• Visit to preshow Sound Check with Graham Nash • One autographed tour poster
• One commemorative Graham Nash laminate
• One commemorative Graham Nash ticket
• Crowd free merchandise shopping
• On site VIP staff

GRAHAM NASH PREMIUM PACKAGE (VIP3) : $175

Package inclusions:
• One reserved floor ticket within first 10 rows • One Graham Nash tour item
• One commemorative Graham Nash ticket
• On site VIP staff

GUACAMOLE FUND

4th Row, Center Pricing: $250 USD + fees & taxes