Kristina Marinova - 4 Rhapsodies (1/19/22) CANCELLED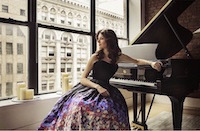 Ticket prices: $28-$48
THIS SHOW HAS BEEN CANCELLED. ALL TICKET HOLDERS ARE BEING NOTIFIED AND REFUNDED.

FOR CURRENT COVID RESTRICTIONS, PLEASE CLICK HERE
Critically acclaimed pianist Kristina Marinova performs four rhapsodies not often heard together in a live performance. These works for solo piano present a range of technical demands as well as contrasted moods, colors, and tonal progressions. They express spontaneity and bursts of improvisation with interplay between stark drama, dance, virtuosity with dazzling and tender lyrical reflection.
"Listening to neoclassical works like "4 Rhapsodies" we instantly realize that music is like a message from God. Grab this opportunity to enjoy beautiful, virtuoso piano with elegant melody and flow of sound. Exquisite composition." (In a
recent review
of the 4 Rhapsodies album with Navona Records)