Leo Kottke & Mike Gordon (12/10/21) VACCINATED PATRONS ONLY SHOW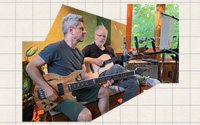 Ticket Prices: $38 - $58
Presented by The Music Hall
Acoustic guitar pioneer Leo Kottke and Phish bassist Mike Gordon tour in support of their new release Noon, their album in 15 years. Couching late-night melancholy in a summer lilt, Noon features 11 tracks of warmly askew folk-pop, intricate playing, and the intimate third voice created by Kottke and Gordon, two of the most accomplished and idiosyncratic instrumentalists in American music. As creative as it is dextrous, under other circumstances, Noon might be hailed as a breakthrough third album from a young band.
The return of an American guitar legend, Noon marks Leo Kottke's first studio record since his last collaboration with Gordon, 2005's 66 Steps, though he's continued to tour constantly. Beginning his career on John Fahey's Takoma label in 1969, Kottke virtually invented his own school of playing with his distinct, propulsive flatpicking. As a co-founder of Phish in 1983, launching a solo career in the early '00s, Gordon's own big-eared musical vocabulary has created both a boundary-pushing discography of studio and live releases, and helped shape a generation (or two) of improvisers. The pairing of Kottke with Gordon began some two decades ago, when Gordon -- a longtime fan -- audaciously overdubbed a bass part over Kottke's 1969 solo track "The Driving of the Year Nail" and hand-delivered it to the veteran Minnesota guitarist. The result was 2002's acclaimed Clone

Vaccinated patrons only-show/Mask required:
Anyone unable to show proof of full vaccination will not be admitted to this event. A full refund will be issued. In accordance with NY State guidelines, valid proof of vaccination are: NY Excelsior Pass, vaccination card (digital copy acceptable. A valid personal ID may be requested as well. If you require a refund due to these changes, please email tickets@tarrytownmusichall.org and reference your order number.

Subject to COVID-19 regulations in force at time of event.