PRISCILLA Queen of the Desert In Concert: A Fun-Raiser Disco Ball (10/23/21) VACCINATED PATRONS ONLY SHOW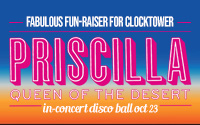 VACCINATED PATRONS ONLY SHOW
MASKS REQUIRED
Presented by Clocktower Players
Join the award-winning Clocktower Players, for a FAAA-BU-LOUS, FUNd-raiser DISCO style as PRISCILLA Queen of the Desert welcomes you back to live theatre! This Tony-winning musical is chock-full of theatrical razzle-dazzle and all of your favorite dance classics, including HOT STUFF, IT'S RAINING MEN, I WILL SURVIVE, GIRLS JUST WANNA HAVE FUN and many more. So get those leisure suits out of storage! Pack up your wigs, lashes, heels and all the glitter you can find! Come enjoy drinks, food and dancing to celebrate the triumphant return to the stage of Westchester's best Community Theatre Company, Clocktower Players. Time to SHAKE YOUR GROOVE THING once again!
DONATE
at
clocktowerplayers.com
Suggested Donation: $50, or what you can. Clocktower Players, a 501(c)(3) not-for-profit charitable organization incorporated in the state of NY; Federal Tax #13-2967644. Donations benefit its award-winning productions, youth education and inclusive outreach programs and are tax-deductible to the full extent of the law.