The Nutcracker Performed by New York Theatre Ballet (12/19/21)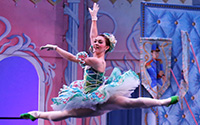 6PM SHOW HAS BEEN CANCELLED. All ticket holders have been emailed their refund options. Please email tickets@tarrytownmusichall.org with questions.

Ticket Prices:
$35 Adults
$25 Kids
6PM SHOW HAS BEEN CANCELLED
FOR CURRENT COVID RESTRICTIONS, PLEASE CLICK HERE
Presented by The Music Hall
An enchanting hour-long production of The Nutcracker, created for younger audiences, yet sophisticated enough for adults! Founded in 1978 by artistic director Diana Byer, New York Theatre Ballet has earned national attention for its artistry and elegant restorations and revivals of masterworks by great choreographers. It is equally committed to performing innovative hour-long ballets based on children's literature for family audiences. In October 2012, NYTB reprised their sold-out performance with The New York Pops at Carnegie Hall with a suite of dances by Agnes deMille from her best-known Broadway musicals.