Music Hall Vinyl Record Sale (10/30 & 10/31)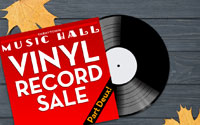 The Vinyl Record Sale to Benefit Tarrytown Music Hall is now accepting donations! Please consider donating your dusty old vinyl record collection to help out Westchester's oldest theater. All proceeds benefit the Tarrytown Music Hall.
Join us on October 30th & October 31st from 10am - 4pm. The sale will be located around the corner from the theater at 15 North Broadway, on the second floor.
Email tarrytownmusichallrecords@gmail.com to schedule a safe drop off or pickup your vinyl record collection for donation. All proceeds will go towards this historic, nonprofit theater.
** We're also collecting old milk crates and/or boxes to store & display the albums. **
Click here for more information.