Four Fabulously Funny Females Starring NPR's Ophira Eisenberg (10/16/21) VACCINATED PATRONS ONLY SHOW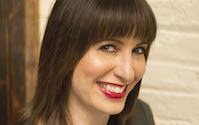 Ticket Prices: $29 - $45
VACCINATED PATRONS ONLY SHOW
MASKS REQUIRED
Presented by The Ivy League of Comedy
Starring NPR's Ophira Eisenberg (NPR's Ask Me Another, plus the Late Late Show, Comedy Central, The Today Show), Kerri Louise (The Oprah Winfrey Show, Comedy Central, Nick Mom Night Out, The View), Karen Bergreen (Comedy Central, Nick Mom, The View) and Leighann Lord (Comedy Central, HBO).
Produced by Westchester's own The Ivy League of Comedy, the premier group of stand-up comedians touring America. Known for their elite brand of clever comedy, you've heard their brilliant comedic voices on late-night TV and Comedy Central. Now come see them live on stage! The Ivy League of Comedy honors audiences with original, well-written comedy that doesn't resort to playing on stereotypes or picking on the audience. From theatres to corporate events to fund-raising shows for charities, The Ivy League of Comedy brings you stand-up comedy's funniest and brightest. This hilarious comedy show is as perfect for entertaining your clients as for a casual night out with friends or a great date. Wouldn't you rather be the one talking about the show instead of just hearing about it later? Don't be disappointed that you missed out. Buy your tickets now!
Ophira Eisenberg:
Comedian Ophira Eisenberg has performed on The Late Late Show with Craig Ferguson, Comedy Central, VH-1, The Today Show, TV Guide Channel's Standup In Stilettos, Fox, E! Channel, CNN, Oxygen Network, and the AXS Network. She is also the host of NPR's weekly trivia comedy show Ask Me Another. Her debut memoir Screw Everyone: Sleeping My Way to Monogamy was recently optioned by Zucker Productions for a feature film.
Kerri Louise:
High-energy, commanding and versatile- but enough about her sex life- Kerri Louise can entertain any audience with her warmth and razor-edge wit. So it's no wonder that Kerri was a regular correspondent on the Oprah Winfrey Show. Because of that, Kerri was asked to be on the very first episode of the Dr. Oz Show. NBC took Kerri all the way to the finals in the show Last Comic Standing. Her performance on that show prompted The Women's Entertainment Network to make her the star of their new reality show called "TWO FUNNY." Kerri's guest appearances include Nick Mom Night Out, Comics Unleashed, the Montel Show, The Fine Living Channel, Access Hollywood, The Apprentice, The View, Comedy Central, VH1, 20/20 and New Joke City.
Karen Bergreen:
A mother of two small boys, Karen does stand-up in order to get out of the house. She has appeared on Comedy Central, The Oxygen Network, Nick Mom, The View and The Joy Behar Show. While the kids aren't looking, Karen is a novelist. Her 2010 comic novel Following Polly earned praise from The New York Times, Oprah Magazine, and her mother-in-law. Her second novel Perfect is Overrated was released in 2012.
Leighann Lord:
Leighann Lord is a veteran standup comedian who has appeared on ABC, HBO, Comedy Central, and is a former co-host of StarTalk Radio,with Neil de Grasse Tyson. She has performed for the troops in the Middle East and was a national finalist in the American Black Film Festival-HBO Comedy Wings Competition. Leighann received the AHA Humanist Arts Award and recently re-released her comedy album, I'm Not Urban. I'm Urbane is streaming on all the best services. She is the author of several humor books including: Dict Jokes and Real Women Do it Standing Up.
Vaccinated patrons only-show:
Anyone unable to show proof of full vaccination will not be admitted to this event. A full refund will be issued. In accordance with NY State guidelines, valid proof of vaccination are: NY Excelsior Pass, vaccination card (digital copy acceptable. A valid personal ID may be requested as well. If you require a refund due to these changes, please email tickets@tarrytownmusichall.org and reference your order number.
Subject to COVID-19 regulations in force at time of event.