CANCELLED Niki Jacobs - The Ballad Of Mauthausen (3/16/22)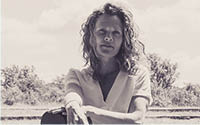 Ticket prices: $35
FOR CURRENT COVID RESTRICTIONS, PLEASE CLICK HERE
Presented by The Music Hall, special thanks to the Shames JCC for their support.
The Ballad of Mauthausen, one of the most beautiful and haunting musical pieces ever to be written about the second world war. A collaboration between the Greek poet Iakovos Kambanellis, a survivor of Camp Mauthausen and Mikis Theodorakis, the famous Greek composer. The work will be performed in Yiddish translation. Niki Jacobs has been performing in Yiddish since 1999 and is a well known artist in the European and US Jewish music scenes.