The Music Hall Muse & Visitor's Guide 2021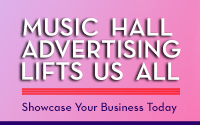 Connect with our 85,000 affluent and active music-enthusiasts. Your advertising makes a difference to the community we serve together. Deadline: September 8, 2021.
The Muse

Program guide distributed to patrons at an average of 175 events annually.
• Reach performing arts enthusiasts who live and work throughout the tri-state area.
• Over 40% have an annual income of $100,000 dollars.
• 65% visit local restaurants 1x-4x per month.
• Acknowledges all of our Members and Donors.
• Highlights community events; celebrates volunteers and patrons.
• Positive PR associated with your support of our historic, nonprofit theater.
Full page: $2,500
Half page: $1,500
Quarter page: $750
The Visitors Guide
Your logo and URL featured on the following high-profile platforms:
• Emails sent to ticket holders as they plan an evening out.
• Dedicated Visitors Guide webpage.
• Inside The Muse, Visitors Guide listing.
• Special Dining offers emailed to Members (2000) every Monday.
• Visitors Guide restaurants receive an average of 225 click-thrus per month.
One-year subscription: $1100
Digital Banners
Prominent placement on the homepage of The Music Hall website, which receives 500,000 visitors each year.
6 Months: $1200
12 Months: $2200
*There is a 3.5% processing fee for credit cards.
To discuss ad placement, special dining offers emailed to Members (2000) every Monday, to pay by check or for any questions, please contact Alison Woods,
awoods@tarrytownmusichall.org
• 917-714-5298