Puddles Pity Party - Unsequestered Tour (12/16/21)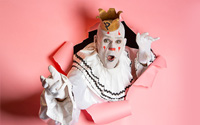 Ticket Prices: $40 -$28
VIP Meet & Greet Tickets: $119
FOR CURRENT COVID RESTRICTIONS, PLEASE CLICK HERE
Presented by The Music Hall
In 2020, with touring cancelled, Puddles holed up in his studio and produced 12 episodes of his "Still Sequestered" show which featured a variety of special guests like Jack Black, Penn Jillette, Howie Mandel, E (from Eels), Weird Al, Sid Krofft, Michael Stipe, Patton Oswalt, Cait O'Riordan, Neil Hamburger, David Dastmalchian, Mastodon, Tim Heidecker and artist Mark Ryden. Puddles also developed a line of coffee. All that was tremendous fun, and kept Puddles from feeling too lonely. But nothing makes Puddles less dejected than performing in front of a live audience of the best fans any sad clown could ask for. He is beyond excited to get back on the road and bring his all new "Unsequestered Show" to his favorite venues!
$119 VIP Meet & Greet:
• Early entry into the venue
• Exclusive preshow acoustic serenade by Puddles
• Socially distant photograph with Puddles
• Limited edition 8x10 photo; autographed by Puddles
• Special Puddles gift
• Official photo-op laminate
• Limited availability


PLEASE NOTE, out of concern, he won't be able to do post-show Puddles Cuddles for this show. But he will be offering a pre-show VIP Meet 'n Greet Experience on most of the tour, where he'll perform a private acoustic set, and you can get a safely distanced photo along with an exclusive souvenir.

About Puddles:

A veritable "Pagliacci by way of Pee-Wee Herman and David Lynch" (The AJC), Puddles Pity Party has over 790K YouTube subscribers and almost 300 million views for indelible interpretations of classics by the likes of ABBA, Bowie, Britney, Cheap Trick, SIA, Tom Waits and Queen along with his unforgettable rendition of the smoosh-up "Pinball Wizard/Folsom Prison Blues." You may recognize him as a finalist on Season 12 of America's Got Talent and a contestant on the 2020 season of AGT The Champions, as well as his viral video collaborations with Postmodern Jukebox.

Puddles charms audiences at his on-going residency at Caesars Palace in Las Vegas, and tours extensively in the US, selling out legendary venues like the Palace of Fine Arts in San Francisco, the Kennedy Center in D.C., The Vic in Chicago and the Troubadour in Los Angeles. Puddles has toured internationally through Europe, Canada, Australia and Mexico. He has also performed many places in the UK including London's legendary O2 Shepherd's Bush Empire and Soho Theatre, as well as the Edinburgh Fringe Festival. Other worldwide festival appearances include the Adelaide Fringe Festival, Perth Fringe World, Melbourne International Comedy Fest, Just for Laughs Montreal, Belgium's Gent Festival, Outside Lands (San Francisco), Festival Supreme (LA), Bumbershoot Festival (Seattle), Moontower Comedy Festival (Austin), and Bethlehem's MusikFest.

"It seems like a parody. But when Puddles opens his mouth to sing, it's beautiful. Operatic." - The Boston Globe

"Fantastically brilliant…originality at its best." - Simon Cowell

"His special effect is a textured voice laced with melancholy…what makes him transcend the trope is his vulnerability." - The New York Times

"Wow…a perfect powerful avant-garde art piece…Genius." - Penn Jillette

"Clever and often hysterically funny… (Puddles) is ideally suited to songs popularized by belters old and new like Tom Jones, Sia and Celine Dion, all of which he performs with tear-jerking bravura…" - LA Weekly

"What a voice he has. Brilliant man. Love him." - Eric Idle