Alisa Amador (8/15/21) VACCINATED PATRONS ONLY SHOW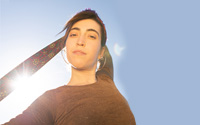 VACCINATED PATRONS ONLY SHOW
MASKS OPTIONAL BUT RECOMMENDED
A Music Hall presentation
It was in green rooms, living room rehearsals, and cramped mini vans that Alisa Amador received her first musical education, singing backup vocals since the age of five for her parents' Latin band, Sol y Canto. But, how did Alisa's sound grow into the Latin- Jazz- Soul and Blues-influenced folk rock that it is today? Start with years of jazz study, solo performance, and training in vocal harmony and improvisation all while pursuing a degree in gender studies at Bates College in central Maine. Add a life-changing trip to Buenos Aires where she met the brilliant songwriter, Mica Ipiñazar and her husband Facundo Parla of the Argentine rock band, Rabiosa. Together they started an amplified band outfit that toured through Buenos Aires and the United States. Alisa returned from Argentina with a renewed belief in the power of music to break down social, political, and emotional barriers and create a space where everyone belongs.
She picked up some incredible collaborators along the way. Jacob Thompson, a multi-instrumentalist and songwriter of his own right, who has collaborated with great songwriters across the country, from Grammy award-winner David Mullins to ASCAP award-winning singer-songwriter Erica Leigh. And Noah Harrington, a lauded bassist who has played in Lincoln Center, Jordan Hall, festivals across continents, and studied with luminaries such as David Hope, Kayhan Kalhour, Béla Fleck, Mike Marshall, and Julian Lage.

Come to a concert and you might see Alisa performing solo with her hollow body electric guitar, or harmonizing originals and jazz covers with Noah Harrington singing and playing upright bass, or turning up the volume and syncopation with the help of Jacob Thompson on drums and vocals; sometimes, you might even encounter a horn or string section. And, it's not uncommon for her parents to grace the stage for a song or two. No matter what the setup, you can be sure of this: no one leaves a concert unmoved. Everyone who shows up –who participates in the revolutionary act of listening– is a part of the experience. Whoever you are, whatever your struggle, pain, or joy – you belong at an Alisa Amador concert.

"Alisa Amador is a pitch-perfect rendition of my wildest dreams."
Cyrena Touros, NPR All Songs Considered

"Shawn Colvin meets Joni Mitchell has lunch with Amy Winehouse meets Suzanne Vega add Diana Krall in a quiet unassuming never loud package even singing in Spanish and French."
Vance Gilbert

"If passion is what makes a band successful, Alisa Amador brings this and more to her incredible performance… Her band delivers instrumentals that highlight the creativity and devotion laced in each song… Reminiscent of 1920s jazz, Amador's soulful voice and driving rhythms captivate the room."
Anah Witt, The Bates Student

Special thanks to the following Music Hall Angels who support our Spotlight series: Robert Mogil, Itemize.com, Science4Data.com

Vaccinated patrons only-show:
Anyone unable to show proof of full vaccination will not be admitted to this event. A full refund will be issued. In accordance with NY State guidelines, valid proof of vaccination are: NY Excelsior Pass, vaccination card (digital copy acceptable. A valid personal ID may be requested as well. Please email tickets@tarrytownmusichall.org with questions or concerns.

Subject to COVID-19 regulations in force at time of event.