The Yacht Rock Experience featuring Boat House Row (8/26/21)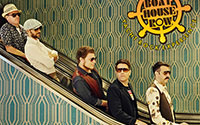 VACCINATED PATRONS ONLY SHOW
A Music Hall/Music Without Borders Co-presentation
In the musical sense, yacht rock refers to the highly polished brand of soft rock that emanated from Southern California between 1976 and 1984. The term is meant to suggest the kind of smooth, mellow music that early yuppies likely enjoyed while sipping champagne on their yachts. Significant "yacht rockers" include Hall & Oates, Michael McDonald, Kenny Loggins, Christopher Cross, Steely Dan, Toto and many more. Home of your ultimate guilty pleasures. Presenting Boat House Row; a Yacht Rock experience like no other. Bringing you the silky sounds of soft rock from the late 70s and early 80s.

Vaccinated patrons only-show:
Anyone unable to show proof of full vaccination will not be admitted to this event. A full refund will be issued. In accordance with NY State guidelines, valid proof of vaccination are: NY Excelsior Pass, vaccination card (digital copy acceptable. A valid personal ID may be requested as well.

Children under the age of 12 who are not yet vaccine eligible, and under the age of 16 who have not yet been vaccinated, may accompany and be seated with a vaccinated adult in a fully vaccinated section.

Subject to COVID-19 regulations in force at time of event.