Squeeze - The Nomadband Tour (8/14/21) VACCINATED PATRONS ONLY SHOW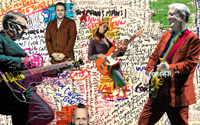 VACCINATED PATRONS ONLY SHOW
MASKS OPTIONAL BUT RECOMMENDED
A Music Hall/Music Without Borders Co-presentation
The UK legends return to the Music Hall after a sold out performance in early 2020! Squeeze first formed in 1973, shortly after Chris Difford and Glenn Tilbrook had begun their songwriting partnership, brought together by an ad in a sweetshop window. By 1977 they had made their recording debut and enjoyed a string of hits which lasted until 1982, the maturity of their songs outliving their initial burst of chart activity on the back of New Wave. Difford and Tilbrook have been compared to Lennon and McCartney since "Take Me I'm Yours", their first release in 1978, blasted the band into the forefront of the UK music scene. Following hits including "Tempted", "Black Coffee in Bed", "Hourglass", "Cool For Cats", "Up The Junction" and "Pulling Mussels From The Shell", Squeeze established themselves as a vital part of the quintessential rock scene. These hits also established Difford and Tilbrook as two of the most prolific songwriters of their time with each amassing a wealth of melody-rich earworms over the past four decades as both Squeeze and solo artists.
Squeeze VIP Upgrade Package available here.
MAIN STREET CLOSED TO TRAFFIC
The day of this show, Main Street will close to cars at 5:30pm to make room for one of Tarrytown's popular "Outdoor Dining Nights." This means there will not be direct access to the Music Hall building by car between 5:30pm and 10pm, please plan accordingly. Most parking lots will be open as usual.
Outdoor dining on Main Street is a wonderful experience, we highly recommend it!
A parking map of nearby lots can be found here.The Music Hall's programs are made possible by the New York State Council on the Arts with the support of Governor Andrew M. Cuomo and the New York State Legislature.


Subject to COVID-19 regulations in force at time of event.