Walter Parks & Special Guest Joshua Garcia (6/19/21)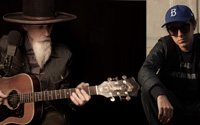 VACCINATED PATRONS ONLY SHOW
Tarrytown Music Hall SPOTLIGHT Series Presents
Walter Parks is a performer of the highest level. If you share a genre-agnostic appreciation of the cabaret form (his calling is swamp blues and Americana), there is no one doing it better than Walter Parks. His show is a pure and incandescent enchantment, a joy and a thrill of consummate artistry. "Walter Parks is an extraordinary singer whose songs can break your heart as well as get you dancing.
Lyrical and political, personal and otherworldly at the same time, transcendent as well as down to earth, Walter is a musical treasure, an artist of the highest caliber. To hear him is to be lifted into a mystical sphere. I adore him." – Judy Collins "A listen to Parks' soulful Americana rock is to be immersed in warm guitar melodies, smoky vocals and troubadour narratives that gather strength with age." WNYC In August 2020 writer, guitarist and vocalist Walter Parks was invited by The Library of Congress to archive his research on and perform his arrangements of music made by southeast Georgia's Okefinokee Swamp homesteaders – hollers, hymns and reels. For 10 years Parks, a Florida native, served as the sideman guitarist to Woodstock Festival legend Richie Havens. Now based out of St. Louis, Walter has recently co-written with Stan Lynch, former Tom Petty drummer and has performed at various venues with R&B drum legend Bernard Purdie and at Lincoln Center with Judy Collins. Walter tours with his own trio Swamp Cabbage, with his solo show Swamp By Chandelier and with an Americana spirituals project called The Unlawful Assembly co-founded by drummer Steven Williams. Walter was a member of The Nudes, a popular folk duo, with cellist Stephanie Winters.

Joshua Garcia is a folksinger's folksinger and a songwriter's songwriter. He writes from the hip, and he sings from the heart. Born and raised in Southern California, Joshua now writes and performs in and around New York City, where he is one of folk music's slowest rising stars (says Joshua, we say he is super talented, super humble, and without question, a rising star). Garcia's precise lyrics and poignant vocals have drawn comparisons from Woody Guthrie and Bob Dylan to Neil Young and Joni Mitchell. Joshua believes in the Power of Song and the album as an artistic format. He recently released his first single, "Everything's Quiet & The People Are Tame," and is in the process of completing his debut album, "That's The Way You Drop A Bomb: Songs For The Deliverance From Enemies," which is to be released imminently. In November 2018, Joshua had the opportunity to open for the legendary Don McLean at Tarrytown Music Hall and was requested by Squeeze's Chris Difford for our livestream program variety showcase with Difford.

Spotlight is a curated series of artists worth knowing. The series relies on ticket sales and donations as a way to help both The Music Hall and the artists who bring us together and enrich our lives with song.

Special thanks to the following Music Hall Angels who support our Spotlight series: Lindsay Baker, Joan Monk

Vaccinated patrons only-show:
Anyone unable to show proof of full vaccination will not be admitted to this event. A full refund will be issued. In accordance with NY State guidelines, valid proof of vaccination are: NY Excelsior Pass, vaccination card (digital copy acceptable. A valid personal ID may be requested as well.

Children under the age of 12 who are not yet vaccine eligible, and under the age of 16 who have not yet been vaccinated, may accompany and be seated with a vaccinated adult in a fully vaccinated section.

Subject to COVID-19 regulations in force at time of event.