The Monster Energy Outbreak Tour Presents Larkin Poe (10/15/21) VACCINATED PATRONS ONLY SHOW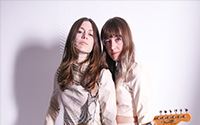 Tickets go on Sale for Premium Members on 5/31 at 11:00 AM EST, Members on 6/1 at 11:00 AM EST and for Non-Members on Friday, June 4, 2021 at 11:00 AM EST
VACCINATED PATRONS ONLY SHOW
MASKS REQUIRED
Presented by The Music Hall
In any normal year, Larkin Poe would have released an acclaimed new album and then hit the road for a very long time. But of course, 2020 has been no ordinary year. The GRAMMY® Award-nominated sister duo of Rebecca and Megan Lovell kicked things off in June with their fifth studio album, SELF MADE MAN, topping an array of Billboard charts while earning unanimous acclaim around the world. Instead of a summer of tour buses and packed theaters, the Atlanta-bred, Nashville-based Lovells found themselves at home, performing many livestream concerts and adding to their much-loved YouTube covers series. That got them thinking, and now we have Larkin Poe's second album of 2020 – KINDRED SPIRITS, a collection of stripped-back versions of covers, both classic and new. When Larkin Poe released SELF MADE MAN, it was in the wake of a remarkable two-year run that saw them earn a #1 Billboard Blues Chart album and a "Best Contemporary Blues Album" GRAMMY® Award nomination for 2018's VENOM & FAITH. While VENOM & FAITH truly solidified the power and independent spirit of the band, SELF MADE MAN is undeniably the Lovell's most wide reaching, artistically adventurous, and self-determined work to date, finding the multi-instrumentalist sister duo, pushing their music and message towards hitherto unexplored terrain.


Vaccinated patrons only-show:
Anyone unable to show proof of full vaccination will not be admitted to this event. A full refund will be issued. In accordance with NY State guidelines, valid proof of vaccination are: NY Excelsior Pass, vaccination card (digital copy acceptable. A valid personal ID may be requested as well. If you require a refund due to these changes, please email tickets@tarrytownmusichall.org and reference your order number.

Subject to COVID-19 regulations in force at time of event.