Key To Our Future 2020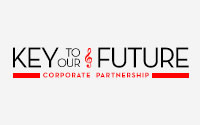 Corporate sponsorship offers the opportunity to align your business with the iconic Tarrytown Music Hall, a historic landmark theater, a vibrant arts community, and an economic engine in the Rivertowns, Westchester, and the Metro-NY area.
Offer support now & receive prominent recognition & benefits:
A-Chorus: $2,500
• Recognition as "Key to our Future" highlighted on weekly email blasts to a list to over 92,000 members and donors in the region
• Sponsor "Night-In With The Music Hall", weekly livestream series. Your name & logo will be included in all digital promotions on YouTube and Facebook live. Opportunity for a pre-roll video prior to a livestream performance.
• Listing in an upcoming issue of The Muse
• Opportunity to be featured as "Sponsor of the Week" in a special call-out section of our Monday and Tuesday email blasts
• Public acknowledgement and thanks on our Social Media including all of our 52,000 followers on Facebook and 4,000 followers on Instagram.
• Featured on the homepage of our website
When We Re-Open:
• Corporate Member VIP privileges such as personal concierge service for drinks and concessions brought to your seats.
• Access to Corporate Member only pre-sales for best seats
• Your business name/logo projected upon our brand new (high tech) on-stage screen in a pre-show stream that will run before most live and film events
◦ On-Stage public acknowledgement by Executive Director or Board President
B-Sharp: $5,000
A-Chorus, plus:
◦ Company to be publicly honored with a prominent display in The Music Hall's lobby or high traffic area (display concept and materials TBD, for example, an etched glass plaque to hang on the wall of the theater lobby).
• 6 tickets to a show, TBD, for when we reopen, including VIP treatment; a private reception space based on safety protocols in 2021
C-Major: $10,000
A-Chorus & B-Sharp plus:
• Opportunity to use the Music Hall for a private corporate event (food and catering not included).
• Inclusion in the logo parade which exists on all show and ticketing pages of our website, and on all emails, show posters, and printed materials
• VIP evening, & sponsorship of a show; includes parking, private reception, lite-bites catering, and 8 tickets to an event (TBD). Also, all marketing & branding in digital media, on tickets and opportunity to display company banners at event.
For all Sponsorship Levels,
When it is safe to do so, we will be hosting a PARTY / CELEBRATION / FUNDRAISER; as such, your partnership will receive recognition of your support during this unprecedented time including being honored by our Board President and/or Executive Director in a Key To Our Future ceremony.
There is a 3% service fee for credit cards payments. If you prefer to pay by check or customize benefits, please contact
 Alison Woods, awoods@tarrytownmusichall.org