CANCELLED - Westchester Symphonic Winds – "Doxologies"(5/16/20)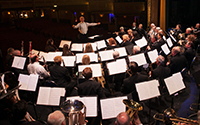 THIS EVENT HAS BEEN CANCELLED
Presented by Westchester Symphonic Winds
Our final concert of the season will open with the deeply meaningful Fantasia in G by Johann Sebastian Bach, and will feature Joseph M. Bello conducting Rest by Frank Ticheli. Christopher Creviston, Arizona State University, will perform the timeless Concerto for Alto Saxophone by Alexander Glazunov. And we will end the season with the massive and emotion-packed Symphony No. 4 by David Maslanka. This symphony combines the spirituality of Bach with jazz elements and profoundly moving melodies and harmonies. You do not want to miss this program!