POSTPONED TO 10/17 Peter Wolf & The Midnight Travelers (5/29/20)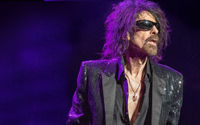 THIS SHOW WILL BE POSTPONED TO 10/17/20.
A Music Hall/Music Without Borders Co-presentation
Peter Wolf has been known for decades as the dynamic lead singer and song writer of the J. Geils Band, with whom he showcased his talents on such hits as "Centerfold," "Freeze Frame," "Love Stinks" and "Musta Got Lost." Wolf's musical roots precede rock 'n' roll and are inspired by his friendships and performances with such distinguished artists as Muddy Waters, John Lee Hooker and Van Morrison. His solo career has produced critically acclaimed recordings that include duets with legendary performers such as Mick Jagger, Keith Richards, Aretha Franklin, Merle Haggard, Steve Earle and Neko Case.Together with his distinguished band, "The Midnight Travelers", Wolf is known for his ability to create an intimate and personal connection with his audience.
Due to unforeseen circumstances this performance is postponed from May 29th to October 17th, 2020. Tickets will be honored on the new date. If you are unable to attend the new date, please email tickets@tarrytownmusichall.org with your order number to receive a full refund.