Bumping Mics with Jeff Ross & Dave Attell (8/28/21)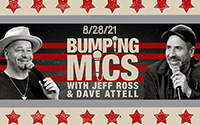 VACCINATED PATRONS ONLY SHOW
A Music Hall/Music Without Borders Co-presentation
Comedians Jeff Ross and Dave Attell have combined their fine-tuned comedic forces to share the stage as co-headliners of their show Bumping Mics. Fresh off their popular Netflix series of the same name, Ross & Attell team up to bring stand-up, audience participation and a style only these two headliners can to one of the funniest live shows you'll ever see.
Vaccinated patrons only-show:
Anyone unable to show proof of full vaccination will not be admitted to this event. A full refund will be issued. In accordance with NY State guidelines, valid proof of vaccination are: NY Excelsior Pass, vaccination card (digital copy acceptable. A valid personal ID may be requested as well.

Children under the age of 12 who are not yet vaccine eligible, and under the age of 16 who have not yet been vaccinated, may accompany and be seated with a vaccinated adult in a fully vaccinated section.

Subject to COVID-19 regulations in force at time of event.