Bumping Mics with Jeff Ross & Dave Attell (8/28/21)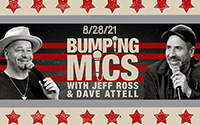 THIS SHOW WAS POSTPONED FROM 4/17/20
A Music Hall/Music Without Borders Co-presentation
Comedians Jeff Ross and Dave Attell have combined their fine-tuned comedic forces to share the stage as co-headliners of their show Bumping Mics. Fresh off their popular Netflix series of the same name, Ross & Attell team up to bring stand-up, audience participation and a style only these two headliners can to one of the funniest live shows you'll ever see.
Due to unforeseen circumstances this performance is postponed from April 17th to August 28th, 2021. Tickets will be honored on the new date. If you are unable to attend the new date, please email tickets@tarrytownmusichall.org with your order number to receive a full refund.