Fred Astaire Dance Studios – Tarrytown Presents Ballroom Dance Show "Dance Fantasy" (1/18/20)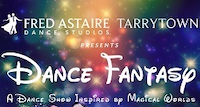 Presented by Fred Astaire Dance Studios Tarrytown
Christmas and Hanukkah are over. New Year's Eve has passed. There's not much going on...or so you thought! Happy January 18th! It's time for "Dance Fantasy!" Each year, the students and teachers of the Tarrytown Fred Astaire Dance Studio celebrate the magic of ballroom dance, with an extravaganza of foxtrots, salsas, rumbas, and show dances. This year's show--"Dance Fantasy"--has been created by three award-winning choreographers, and inspired by the music from the universe of Disney. From "Star Wars" and "The Avengers, "to "The Little Mermaid " and "Beauty and the Beast," and many more!!! So come along with us on this journey. It will be a night to remember!