POSTPONED TO 12/3/21 - Aaron Neville Duo (8/15/20)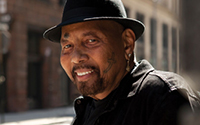 THIS SHOW WILL BE POSTPONED TO 12/3/21
A Music Hall/Music Without Borders Co-presentation, supported by WFUV
Special Guest: KJ Denhert
Slipping easily from Funky to R&B and Soul, Aaron Neville is one of the most distinctive vocal stylists of all time. The New Orleans-born artist brings his unmistakable sound, heard in classic ballads like "Tell It Like It Is" and "Don't Know Much" – his hit duo with Linda Ronstadt, to the Music Hall. Blessed with a rich, mellifluous voice that won the hearts millions of Americans during the mid-20th century, the talented singer has four Platinum-certified albums and four Top 10 hits in the U.S. to his credit. Along with his solo career, he also performed as part of the famous Neville Brothers band which included his brothers Art, Charles and Cyril. Being of mixed African American and Native American heritage lends a versatility and vibrancy to his music which has elements of Cajun and Creole influences. Born into a humble but happy family, the young Aaron was introduced to music quite early on in life. Charming and talented, he ventured into a musical career and found success soon enough. Until now, it's been easy to separate Aaron Neville's career into two separate but equal strains: the funky sounds he's favored when working with his esteemed band of brothers and the angelic balladry you associate with him when he's punching his own timecard as a solo artist. Casual fans might admit they don't know much — to borrow a phrase — about Neville's musical center, but they've perceived a certain split in his career. In his album Apache, he has become the most holistic of Soul men. It's gritty style matches anything the Neville Brothers ever recorded, while still allowing plenty of space for a singer who's made his fame with tender ballads. Apache also reflects Neville's social and spiritual concerns, marking only the second time in his 56-year recording career that he's co-written nearly an entire album's worth of material. Aaron Neville's versatility and prodigious talent have created a space for him in the annals of American music that is unchallenged. He continues to tap into his creativity to make beautiful music and bring joy to all who hear the Soul sounds that comes from deep within.

Due to unforeseen circumstances this performance is postponed until December 3rd, 2021. Tickets will be honored on the new date. If you are unable to attend the new date, please email tickets@tarrytownmusichall.org with your order number to receive a full refund.