A Classical Valentine's Day Concert; Chopin, Champagne & Chocolate (2/14/20)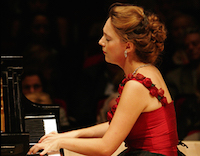 A Music Hall Presentation
Enjoy a very special Valentine's Day with celebrated Carnegie Hall pianist performing romantic favorites, Ms. Grineva is a world-celebrated performer, who has the distinction of being a Steinway artist, and we are thrilled to have her back for the second year in a row, and she is joined by acclaimed cellist and teacher Byron Duckwall. The performance celebrates our theater's 40th anniversary of being saved from the wrecking ball on Valentine's Day 1980. The program of classics will include Debussy "Clair de Lune", Chopin "Fantasie - Impromptu", and Beethoven "Moonlight Sonata".

Ms. Grineva will be performing her 19th season at Carnegie hall on Dec.27, and has performed throughout the United States, Europe, South America, and Asia.

A premium ticket package includes a post-show champagne & dessert reception with the artist on stage ($75)

Complimentary tickets available for students grades 6-12

Special thanks to Dan Bucci of Coldwell Banker, The Chelsea at Greenberg, and MadeByRK Catering & Events for their support of this performance.

7:00 pm – Concert Preview Event
A special conversation moderated by Music Hall Executive Director and cellist Byron Duckwall.

7:20 pm – Marina Varriano's Music Hall Debut
The Music Hall is delighted to support young musicians and welcomes pianist Marina Varriano, age 15, from Westchester to our stage. Marina was the third place winner of the 2019 Debut International Piano Competition and silver medalist in the 2018 U.S. Golden Key Music Festival.

7:35 pm – Brief Intermission

8:00 pm – Performance by Pianist Katya Grineva and Cellist Byron Duckwall
Ms. Grineva is a world-celebrated musician who has the special distinction of performing more times at Carnegie Hall than any other solo female pianist. She will be joined by acclaimed cellist Mr. Duckwall. Together they will perform a program of romantic classical favorite including Debussy "Clair de Lune", Chopin "Fantasie - Impromptu", and Beethoven "Moonlight Sonata".

10:00 pm – Post-Show Champagne & Dessert Reception
Premium ticket package includes a post-show champagne & dessert reception with the artists on stage ($75)