Melissa Etheridge - The Medicine Show (6/12/22)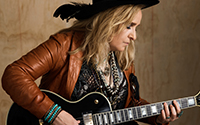 Presented by The Music Hall
Melissa Etheridge returns to the Music Hall supporting her 14th studio album, The Medicine Show. The songs of The Medicine Show are inspired by acts of kindness, love, resilience and bravery on all levels. "Human Chain," with its Memphis soul vibe, is of people coming together to help one in need. The album-closing "Last Hello" draws on the incredible strengths and courage shown by the survivors of the Parkland school shootings. Other songs take a look-in-the-mirror stance about overcoming a wide range of challenges and adversities, of rising above with equal measures of love and fortitude. The healing builds on the musical medicine of its two predecessors, 2014's exuberantly expressive This is M.E. and 2016's joyous trip through the cherished history of the iconic Stax Records legacy, Memphis Rock and Soul.
$350 VIP Package includes:

• One premium reserved ticket located in rows 1-10
• Exclusive preshow photo op with Melissa Etheridge
• Specially designed Melissa Etheridge raglan tour shirt (exclusive to VIP package only!)
• Limited edition tour poster; autographed by Melissa Etheridge
• Melissa Etheridge tote bag
• Commemorative Melissa Etheridge pin set
• Official Melissa Etheridge photo op laminate
• Commemorative ticket
• On-site VIP host
• Very limited availability

Tickets will be honored on the new date. If you are unable to attend the new date, please email tickets@tarrytownmusichall.org with your order number to receive a full refund.