Whindersson Nunes (3/8/20)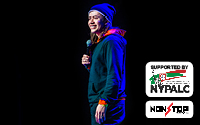 A Music Hall/Music Without Borders Co-presentation
Comedian, actor, singer and YouTube star Whindersson Nunes is the most popular comedian in his native Brazil and one of the most popular comedians in the world. Born in Bom Jesus do Piauí, he started making funny videos and parodies for his YouTube channel when he was 15 and earned a large amount of fans and followers in Brazil. In 2015, his enormous success led him on stage, presenting his first stand up special "Marmininu" and reaching over two hundred thousand people. His following show "Proparoxítona" achieved international reach with presentations in Portugal. In 2018, Whindersson debuted "Eita, casei!", a show about his adult married life and all the funny stories about the wedding day. This show travelled through America, Europe, Asia and Africa and earned him a Netflix comedy special called "Adulto". This show is performed in Portuguese.
Que Whindersson Nunes é o nome e mais comentado no humor atual, disso temos certeza, e quando se trata de stand up, então, não poderia ser diferente. Em a "Volta do que não foi", ele se superou mais uma vez, contando do jeitinho Whindersson de ser como foram suas aventuras pela turnê mundial, passagem pelos países, as dificuldades com os idiomas e as diferentes culturas que ele encontrou pelo caminho dos 12 países que passou.

Com uma temática diferente de tudo o que podemos imaginar, esse show é pensado para pessoas que conhecem a história do menino Whindersson, com piadas que remetem a todas as fases de sua vida, até mesmo a famosa cirurgia que nós sabemos onde foi, não é mesmo? Sim! Ele contará, minuciosamente, o que aconteceu neste período e até mesmo o que aprontou quando esteve afastado dos palcos. A "Volta do que não foi", diga-se de passagem, é um o melhor espetáculo da vida do artista.