POSTPONED DATE TBD Lúnasa (3/7/21)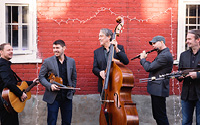 THIS SHOW WILL BE POSTPONED. DATE TBD.
A Music Hall/Music Without Borders Co-presentation, supported by WFUV
We are excited to welcome Lunasa back to the Music Hall after a sold out performance in 2018 Named for an ancient Celtic harvest festival in honor of the Irish god Lugh, patron of the arts, Lúnasa is indeed a gathering of some of the top musical talents in Ireland. Its members have helped form the backbone of some of the greatest Irish groups of the decade.
Bassist Trevor Hutchinson was a key member of The Waterboys, and later he, with guitarist Donogh Hennessy, would form the dynamic rhythm section of The Sharon Shannon Band; Ed Boyd (Flook, Michael McGoldrick Band) has recently replaced Hennessy; Fiddler Sean Smyth is an All-Ireland champion who has played with Donal Lunny's Coolfin; Kevin Crawford, considered to be among the finest flutists in Ireland played with the acclaimed traditional group Moving Cloud; and, piper Cillian Vallely of the famous Vallely artistic clan has performed with Riverdance and recently recorded with Bruce Springsteen. Folk Roots magazine has rightly termed them an "Irish music dream team."
Due to unforeseen circumstances, Natalie Merchant will not be able to appear on the upcoming Lunasa show.
For those ticket holders still wishing to celebrate St. Patrick's Day with Lúnasa ("The Hottest Acoustic Irish band on the planet" — The Irish Voice), all tickets to the show will now be a special price of $38. If you already purchased tickets, we will refund you the difference from the original ticket price. For those not wishing to attend you will receive a full refund. If you are a ticket holder, please email
tickets@tarrytownmusichall.org
with your order number and which option you'd like to choose.
Due to unforeseen circumstances this show will be postponed. Tickets will be honored on the new date. If you are unable to attend the new date, please email tickets@tarrytownmusichall.org with your order number to receive a full refund.