Tommy Emmanuel, CGP with Jerry Douglas (4/30/20)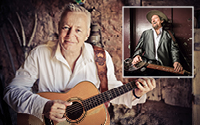 A Music Hall/Music Without Borders Co-presentation, supported by WFUV
An incredible evening with two virtuosos! Tommy Emmanuel has achieved enough musical milestones to satisfy several lifetimes. Or at least they would if he was the kind of artist who was ever satisfied. At the age of six, he was touring regional Australia with his family band. By 30, he was a rock n' roll lead guitarist burning up stadiums in Europe. At 44, he became one of five people ever named a Certified Guitar Player by his idol, music icon Chet Atkins. Today, he plays hundreds of sold-out shows every year from Nashville to Sydney to London. All the while, Tommy has hungered for what's next. When you're widely acknowledged as the international master of the solo acoustic guitar, what's next is Accomplice One, an album of collaborations with some of the finest singers, songwriters and, yes, guitarists alive today – a list including Jason Isbell, Mark Knopfler, Rodney Crowell, Jerry Douglas, Amanda Shires, Ricky Skaggs, J.D. Simo, David Grisman, Bryan Sutton, Suzy Bogguss and many more. Dobro master and 14-time GRAMMY winner Jerry Douglas is to the resonator guitar what Jimi Hendrix was to the electric guitar, elevating, transforming, and reinventing the instrument in countless ways. Additionally, Douglas is a freewheeling, forward-thinking recording and touring artist whose output incorporates elements of country, bluegrass, rock, jazz, blues, and Celtic into his distinctive musical vision.