Paul Reiser (2/7/20)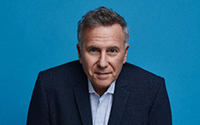 A Music Hall/Music Without Borders Co-presentation
Special guest: Jeff LeBlanc
Comedian, actor, television writer, author, and musician Paul Reiser has been busier than usual lately. He's currently starring in two hit shows for Netflix: 'Stranger Things,' in which he stars as Dr. Sam Owens, in a role created by the Duffer Brothers with him specifically in mind, and he's also joined the cast of "The Kominsky Method" staring alongside Michael Douglas and Alan Arkin. The second season of "The Kominsky Method," created by Chuck Lorre, premiered October 25th, 2019. This follows two shows for Amazon: three seasons on "Red Oaks" - in a role singled out as "one of his absolute finest, not just of late, but of ever." - and in "Mad Men" creator Matt Weiner's limited series 'The Romanoffs.' alongside Christina Hendricks and Isabelle Huppert. And this very busy year will end with the highly anticipated return of "Mad About You," the long-running hit comedy of the 90's in which Reiser starred with Helen Hunt, which Reiser also co-created. In addition to Reiser's multiple Emmy, Golden Globe, American Comedy Award and Screen Actors Guild nominations, "Mad About You", won numerous Emmy awards, a coveted Peabody and a Golden Globe for Best Comedy Series. The original series ended in May 1999 and will now return, 20 years later, as a limited series on Spectrum Originals - the first comedy they're producing - debuting in the holiday season later this year.