Lotus Land & Awaken - A Tribute to the Music of Rush & YES (2/28/20)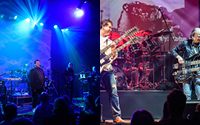 A Music Hall/Music Without Borders Co-presentation
Two incredible bands in one night! With an unparalleled performance, The American RUSH Tribute Lotus Land brings the force of live Rush to life on stage. Enjoyed by die-hard Rush fans, musicians, and casual music listeners alike, the Lotus Land experience has been heralded as the ultimate celebration of RUSH's musical craftsmanship and spirited performances.With the true set up and sound of the Canadian power trio, Lotus Land delivers the thrill that people expect when they see RUSH in concert. Their performances have wowed sold-out houses in premiere concert venues and their fan base continues to grow nationally and internationally. Awaken is comprised of extremely talented and seasoned musicians dedicated to celebrating the music of Yes. By combining elements
from the original studio recordings along with the inspirational power of past live Yes performances, Awaken provides a truly authentic and dramatic musical experience that will impress even the most critical and passionate fans of the band they pay tribute to.