Family Fun Day - FREE EVENT! (11/16/19)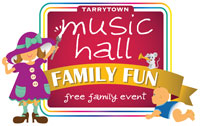 The Tarrytown Music Hall will open its doors to the community for a FREE Family Fun Day event! Please join us on Saturday, November 16, at 10:00 AM until 2:00 PM for a day of dance, circus arts, and theater arts, with music, fall-themed arts and crafts, healthy snacks, and many other FUN surprises! This event is FREE and open to the public. No tickets required.
Please note: The Music Hall will be collecting new unwrapped toys for Toys For Tots, through December 15th!

The following activities will be happening throughout the day:

Westchester Circus Arts – 10:00 AM – 11:15AM
Main Stage Circus Arts Demo and Guided Participation
Circus performers from Westchester Circus Arts will demonstrate amazing feats and then show YOU how to do them! Learn to walk the tight-wire, balance on the rola-bola, juggle, and fly on the aerial silks!

The Music Hall Academy - 11:30AM – 12:30PM
Main Stage Theater Demo and Guided Participation
Young people from the Music Hall Academy's production of WILLY WONKA AND THE CHOCOLATE FACTORY will perform songs from the show, followed by Teaching Artists leading special Magical Chocolate activities: families will learn choreography from the show wearing green Oompa Loompa wigs, kids will have the chance to create their very own candy making machines, and everyone will get a chance to play fun and interactive theater games! Candy will be given out and special "golden tickets" hidden in a few bars will win you secret prizes!

Rivertown Dance Academy – 12:45PM – 2:00PM
Main Stage Demo and Guided Participation
Rivertown Dance Academy was founded on the belief that everyone, regardless of ability to pay, should have the opportunity to pursue high-quality and comprehensive dance education. Rivertown Dance Academy is accessible in location, literature, and in ability to provide need-based financial aid. The faculty is dedicated to developing the artistic and personal growth of each student and is uniquely qualified academically, professionally, and pedagogically. Rivertown Dance Academy offers outstanding dance education for all ages, interests, and abilities through year-round classes, workshops, and performing ensembles.

Sing-Along with our friends from Rock Island Sound, who will be strolling, singing and strumming a guitar and creating smiles throughout the day!

Be sure to visit our sponsor tables and get creative making some fun fall-themed arts and crafts!

Tarrytown Music Hall's programs are made possible by ArtsWestchester with support from Westchester County Government, New York State Council on the Arts with the support of Governor Andrew Cuomo and the New York State Legislature, and through the generosity of our individual contributors and members.

The Family Fun Series and Family Fun Days are made possible with a generous support from The Westchester Community Foundation. Additional support from 914 Orthodontics, ArtsWestchester, DoctorMac, Franzoso Contracting, Green Mountain Energy, M&T Bank, The Master's School, Rotary Club of the Tarrytowns, and Snap Fitness of Tarrytown. Special thanks to Westchester Circus Arts, Rivertown Dance Academy, The Music Hall Academy, Rock Island Sound, Main Street Atelier, Margaret Fox Photography, Westchester Family Magazine, The Warner Library, and our Music Hall Volunteers for providing in-kind support for today's Family Fun Day.

The Music Hall is a nonprofit organization dedicated to serving the community by presenting world-class musicians and performing artists right here in Westchester, offering theater education opportunities for young people and proving our historic, landmark theater can be a showcase for renewable energy! Ticket sales only cover a portion of the theater's annual operating costs. Support of our members, donors and sponsors help make community outreach programs like Family Fun Day possible and ensure the long-term success of The Music Hall and The Music Hall Academy.