Claudia Oshry: The Dirty Jeans Tour (12/7/19)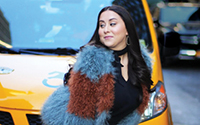 Presented by
AM Productions
CLAUDIA OSHRY
is an influential creator, entertainer, social media personality, and stand-up comedian. Claudia has a growing following of 3M followers on Instagram alone; where she posts memes that are filled with sarcastic one-liner captions on her breakout account @girlwithnojob. It's the kind of humor that seems to strike a chord with everyone, but especially with female millennials. Her podcast with her sister JACKIE OSHRY, The Morning Toast, offers a millennial take on news, pop culture, and entertainment. The podcast brings a comical, yet compelling conversation to listeners about all things relevant. Since 2017, The Morning Toast has steadily remained one of the most popular podcasts, and can be live streamed via Facebook, Instagram & YouTube.
Claudia is evolving into a buzz worthy comic. Her current DIRTY JEANS TOUR regularly sells out theatres and clubs across the country. The New York City native has been featured on "The Today Show," "Nightline," "The Steve Harvey Show" and "Say Yes To The Dress," among others. In August 2019, Claudia released her first single "Toast", which made it to No. 4 on the Pop Charts in under 24 hours.
Find Claudia on:
Facebook
Instagram
Twitter


All $75 Premium tickets include a VIP pre-show meet and greet with Claudia.