SHIFF Special Presentation & Screening - Dark Shadows: Behind The Screams w/ House of Dark Shadows (10/12/19)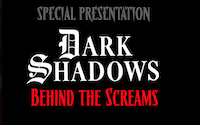 Presented by Sleepy Hollow International Film Festival
Special Guests: Jim Pierson, Kathryn Lee Scott & Mary O'Leary
In 1970-71, Sleepy Hollow and Tarrytown were the original locations for MGM's HOUSE OF DARK SHADOWS and NIGHT OF DARK SHADOWS with the local Lynwood Estate serving as the iconic Collinwood estate, home of TV's first family of Goth. Jim Pierson, longtime curator of the franchise and producer of the documentary MASTER OF DARK SHADOWS, digs deep into the private archives of Dan Curtis Productions to present a never-before-seen look "behind the screams" of the filming of the durable TV & film series. Joining him will be veteran actress Kathryn Leigh Scott, who starred as Maggie Evans in the original ABC series and HOUSE OF DARK SHADOWS, (1970, 97min), which will screen at 1pm at the Tarrytown Music Hall theatre, followed by "Behind The Screams" and a panel discussion/Q&A with Kathryn Leigh Scott, Jim Pierson and Mary O'Leary, who managed late DS star Jonathan Frid (vampire Barnabas Collins) and produced his one-man shows. Autographs, books and photos will also be available in addition to another debut video surprise for DS fans!
VIP PLATINUM PASS and GOLD PASS
purchases include this show, along with ALL the film festival's Music Hall events, and provide seating ahead of individual ticket purchases.