Jay and Silent Bob Reboot Roadshow with Kevin Smith (2/11/20)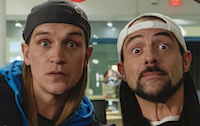 A Music Hall/Music Without Borders Co-presentation
Kevin Smith comes to Tarrytown to show his latest and greatest motion picture, the star studded Jay and Silent Bob Reboot! Kevin hosts the evening and will hold an interactive Q&A. The New Jersey stoner icons who first hit the screen 25 years ago in CLERKS are back! When Jay and Silent Bob discover that Hollywood is rebooting an old movie based on them, the clueless duo embark on another cross-country mission to stop it all over again!
$805 VIP Meet & Greet Experience
Limited to 2 tickets only per show.
Includes a seat in the first row.
One on One time with Kevin post show, including selfie
Game-worn and signed hockey jersey from Kevin's collection
Reboot Script signed by Kev & Jay
Commemorative VIP Tour laminate.


$205 VIP Photo Op Experience
Limited to ?20 per show.
Includes seats in the first 10 rows.
Photo Op with Kevin
Commemorative VIP laminate
Reboot Script signed by Kev & Jay

$105 VIP Exclusive Merch Bundle
15 per show
Includes a seat in the first 10 rows.
Reboot Script signed by Kev & Jay
Commemorative VIP laminate